Will.I.Am Steals MatZo & Arty's Melodic "Rebound" For #willpower Album
In an incredibly digital world, it's amazing what kind of access we have available to us on the internet. Unfortunately, for some cases that can work against us. A frequent Top 40 pop name on American Dance Charts, "music producer" will.i.am is currently under a LOT of heat for essentially "borrowing" the master sample from a track by our favorites MatZo & Arty. 'Rebound's unmistakeable melody can be heard prominently in will.i.am's "song". With cheesy vocals by Chris Brown thrown on top of this trancey melody, there are tons of infuriated fans. Give a listen to both & there's not the slightest doubt that "Let's Go" is "Rebound".
They never cleared rights through Anjunabeats, who's only one label, who ownes the rights for "Rebound".

— Arty (@arty_music) 16 april 2013
Whats worse is that Anjunabeats never gave any type of clearance or OK as to using any portion of the song on will.i.am's next album entitled #willpower. MatZo was so infuriated, he deleted his Twitter account in protest (but come back.. we miss you already!) Tons of other DJ's and producers with unmatched impacts on dance music have joined in on the conversation. Even headmaster Jono Grant from Above & Beyond is disgusted. Perhaps my favorite is by New York City's very own DJ Eco.
And finally, the magnanimous Chris Brown, whose vocals round out the train wreck tune that is 'Let's Go', spoke out via Twitter. I have to warn you that the ignorance displayed below is difficult to comprehend, and that EDM fans may find the following Tweets highly disturbing. I encourage you to try to have faith in humanity after reading the following posts, though I know it will be difficult. Now look: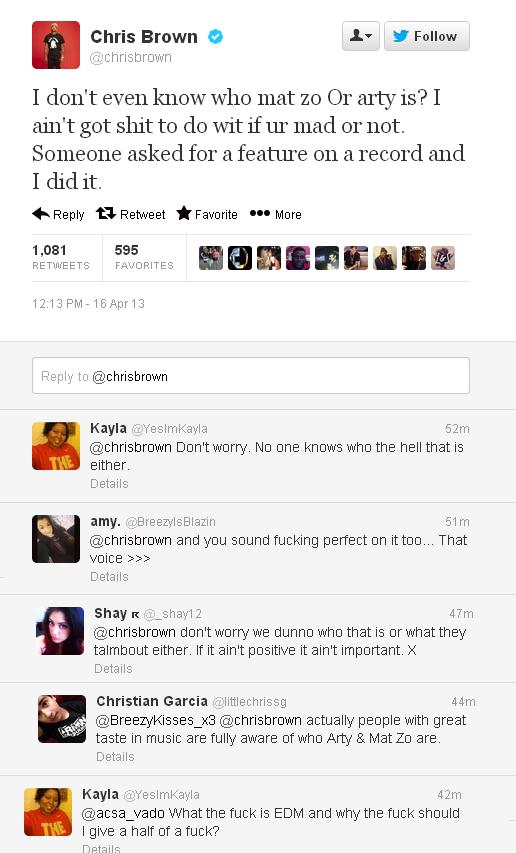 Though at least Christian Garcia knows what's up…
UPDATE:
Laidback Luke has contacted Will.i.am's producer and confirms that Arty is part of the record and is getting producer credits.
@moskahouse I think it's wrong that Arty isn't telling the world he's actually a part of the record.

— Laidback Luke (@LaidbackLuke) 17 april 2013
@astateofchern I wrote the producer a long email about stealing, and he said Arty is getting producer credits and everything. It's cleared.

— Laidback Luke (@LaidbackLuke) 17 april 2013
We will update with Arty's response when it becomes available.
Credits: WRR