10 Questions With Upcoming Duo The Chainsmokers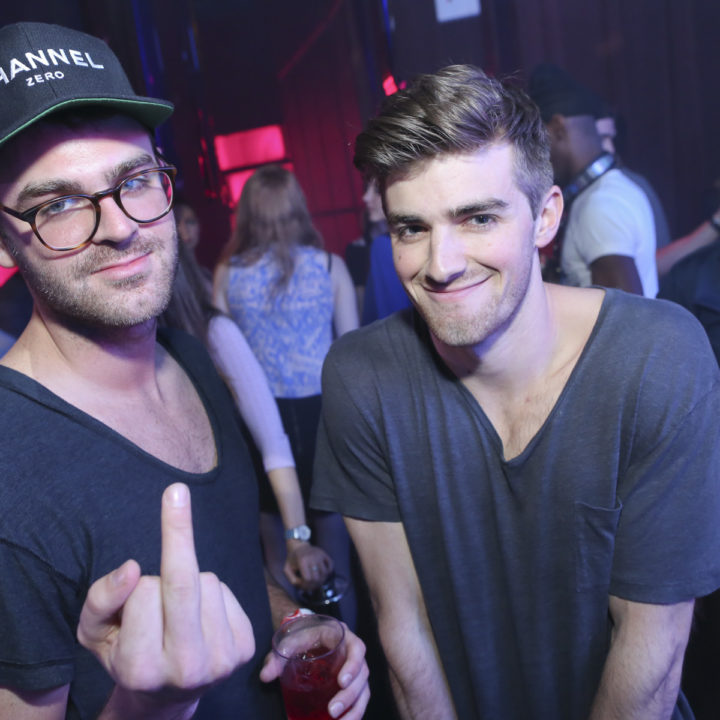 The last few months, a American duo slowly created more and more buzz. With several free remixes, they won the hearts of many fans. The latest one was for Say Lou Lou's "Julian". Of course we're talking about The Chainsmokers. The masters of Indie Progressive House seem to be really funny and entertaining to speak to.
This also comes out in our 10 question interview with the two producers. Their way of answering questions makes them unique and entertaining to read. As said, we fired off 10 questions, read them and meet The Chainsmokers!
1. What would be the best way to introduce yourself?

Probably with some white doves, some pyro and a girl in a thong onesie….
2. When did you 2 meet and what was it that made you form a permanent team?

We met in the late summer of 2012… it wasn't chat roulette that we met it was Steve Angelo actually that put us in touch, we were all skiing in the alps together, a family thing we do, drew was a novice skier I was a novice snow boarder and we shared a gondola up the mountain and found we had more in common than our novice skiing and snow boarding.
3. Who or what have been your biggest inspiration to start producing?

For Drew it was Deadmau5, faxing berlin, but it was also a means to become a figure in the music industry rather than being an intern, than an assistant, and on and on and on… self employment rocks… For Alex, it was all about the glory, blazing chariots….
4. Your Indie Progressive House is quite unique in the scene. How did you discover this style?

Haha is it a scene now… that's cool… well it wasn't really a discovery and something we sorta just stumbled upon. We love listening to indie music, there are scores of unknown musicians with so much talent who may never become the next postal service or what have you and we always enjoyed seeking them out for our own listening pleasure, but we also loved the raw energy and emotion in progressive house, and as much as people hate on pop music, we think its amazing cause the beauty of it lies in its mass appeal. So we thought if possible it would be great to try and create music that pulls a bit from each of these genres which already have cross over, but not always successful. SO we try and create music that maintains the integrity of indie music with its authenticity and quote un quote real-ness and the power and emotion of progressive house with a sound that tries to break out of any particular genere. LONGEST RUN ON SENTENCE EVER!!!
5. Name a producer who is on your wishlist to collaborate on a track and why?

Tommy Trash, cause that guy is original, seems super cool and hasn't made anything but excellent music.
6. If a huge record label would ask you to join them but only under the condition to change your whole music style for the bigger audience. What would you do?

I mean we try and make music for a big audience, when we describe our sound as indie we mean authentic and non-artificial not off the beaten track, so we would prlly be confused… we want our songs on the radio and heard by all. We aren't sell outs, but we make music to be heard not partially, and let us be clear, ppl, being music listeners who get angry at their favorite artists for having their song on the radio are not real fans… long as you stay true to yourself and goals this should never be an issue..
7. What do you like to do in spare time?

Facebook creep our fans…
8. A direct question: which one of you is the better producer?

Definetly our PR guy…
9. Would you call yourself an edm-producer?

We would call ourselves musicans…
10. What can we expect from you in the near future?

Original Music, Bottomless leather jacket photo shoots and snapchat romance…
You can find The Chainsmokers on the following sources:
Twitter
Facebook
Soundcloud
Youtube
Official Website
We'd like to thank The Chainsmokers and their management for the interview!