We Talk Touring, Remix Contests, And New Songs With Bro Safari!
Bro Safari is an American DJ and music producer. He works a lot with fellow producer UFO! They recently released their first album "Animal" together. Bro Safari started with moombahton and has since moved onto producing trap, but he also produces dubstep and other genres. He played a huge role in the explosion of trap and twerk music with his songs like "The Drop." We asked him 10 questions regarding touring, remix contests and new songs. Check out his answers below and enjoy!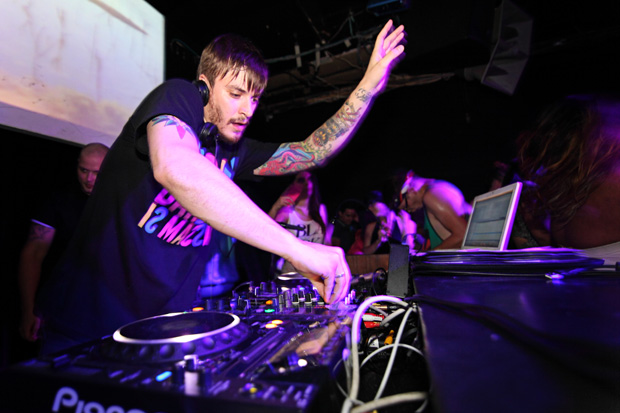 Who or what made you fall in love with music?
That's hard to pinpoint exactly, but it's something that has just been a part of me for as long as I can remember.
What is your opinion on the rapidly rising Trap/ Twerk Genre?
Well, the 2 genres are not one in the same, as far as I know? Twerk seems to be steadily in the 100 bpm range, while the Trap stuff varies in tempo. I have to specify because my thoughts on the two are much different. The whole Trap thing just exploded and now it feels like it's getting pretty watered down. I still hear some cool tunes, but they're not coming by with as much frequency, and a lot of it is sounding like it has had the life sucked out of it. I don't mean to bash the genre at all. I love a lot of it, but it's just becoming a very "safe" genre to involve yourself with. Everyone seems to dabble in it, which is cool, but I think that if the genre is going to expand, producers need to let their sensibilities evolve and try new things. There's nothing wrong with taking some risks with your work. If you're going to do something, then go all the way and try to make it your own thing all together. Genres be damned. Which leads me to Twerk. I actually dig this sound a lot. It's got a nice blend of Moombahton/Breaks vibes mixed in with some of elements that make Trap music interesting. I dunno… Everything is starting to blend together. I like everything, but then I really dislike a lot of stuff in the same genre at the same time. I can't really tell what's what anymore. I feel like I lost some brain cells answering this question.
You held a remix contest for your song with UFO! Called "Drama." How excited were you to hear so many remixes to your song?
Yeah, that was cool. I wasn't sure if we'd have enough submissions to really pick a winner, but I was really, really wrong. We had over 400 submissions to go through and people are still uploading remixes today, even after the contest has ended. I love the enthusiasm behind it. Getting a group of like-minded individuals together to do something like this creates a feeling of community. I know that sounds a bit corny, but I think it's true. If UFO! and I were able to get in a room with these 400 producers, I bet it would be awesome. We could just talk about music and everyone would be there with the same thing in mind, and that is to share information with people who think like you think.
If you could collaborate with anybody, regardless of genre, who would it be?
Tough to say. I'd love to get in a studio with Thom Yorke and make some crazy music, but at the same time, I wouldn't be able to relax. So, if I got the chance to know the person first? Yeah, loads of people I'd love to work with. I just rarely feel comfortable in the studio with people. I work very slow and I'm meticulous to the point where it's probably annoying to people. The only person that I can really vibe with, 1 on 1, is UFO!. I can work with lots of other people, but he and I just put the egos aside and let the creativity flow when we work together.
You're performed at Electric Zoo this year. What was it like to be playing there?
Electric Zoo was pretty crazy. It's one of the last festivals of the year and the crowd was great, and I felt like the promoters of the festival really had their stuff together. It was going really well.  Unfortunately, some lives were lost that day and it's hard for me to go on about the show itself without thinking about that. Very tragic.
Are there any songs you have in the works that you can tell us about?
UFO! and I are consistently laying down the framework for new material. We just finished a remix for Brillz, and now we're working on some experimental material for a new album. Our last record, Animal, was a bit of everything in the dance music world. This time, we're going to put that aside and just make some really interesting music without thinking about dance floors. We want to do something that can be performed live, as opposed to just doing DJ sets. Beyond that, I'm working on a few collaborations with various artists. I've been sending stems out like crazy to fellow producers in hopes of getting some good remixes to play on the upcoming Animal House Tour. In January, I'll be starting in a solo EP or LP, where I really hope to show what I'm capable of as a producer, and not just as an EDM producer.
Do you ever have times where you get a "Producers Block?" If so, is there anything special you do to restart the creativity?
Absolutely. Every producer does! You just have to learn to embrace it. There is literally no other choice. If you fight it, it lasts longer. I often just try and work through it. I'll make some really stupid music in that time period, but it's not like I have to release it. It's just my little, stupid secret.
 If you could play any venue, where would it be and why?
I want to play Red Rocks. It just looks like an amazing place to play a show!
 You're touring a lot now with your Australian Tour and the Animal House Tour. (alongside ETC!ETC!, Torro Torro, & CRNKN) What's life like for you on the road?
It's cool. It took me a long time to readjust to being away from home so much. Now that I have a wife and kid, it's even harder. I hate to be repetitive, but I've just learned to embrace it. What can I do? What's the alternative? I could complain about being tired and flying all the time… I could quit music and go work some boring job… Or, I could suck it up and appreciate every moment that I'm able to do this, even if it's exhausting at times. I'm lucky, plain and simple.
Where can we expect to see you in the next coming months?
The next couple of months, you can catch me driving around the country in a bus with my buddies ETC!ETC!, Torro Torro, CRNKN, MC Sharpness and a load of special guests. The Animal House Tour will be my main focus from October until the end of the year. Like I said, after that, I'll be enjoying some time off to work in my new studio!
Below are a couple of songs, old and new alike, from Bro Safari and other artists. Enjoy!