The Harder Side Of Dance Music, Our Interview With Psyko Punkz, Gunz For Hire, And Coone!
Hardstyle is an emerging genre in the US, however, hardstyle has been around since the beginning of dance music and has progressed a long way over the years. We sat down with three of the current best hardstyle acts out there and talk origins, new music, and much more. All of these artists are performed at Tomorrowworld and will be performing at The Sound Of Q-Dance. Enjoy our interview with Psyko Punkz, Gunz For Hire, and Coone!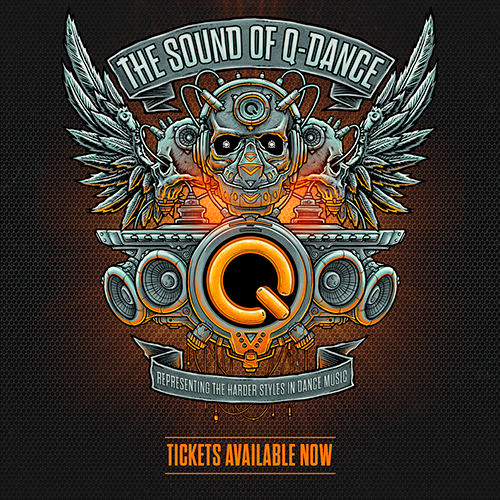 1.    How would you describe hardstyle to new fans?
Psyko Punkz: Really energetic uplifting music with a raw edge. The ultimate party music!
Gunz For Hire: Hardstyle is a dance style that has so much energy; it can really take you to a higher level. It's an up-tempo music genre (140 to 150 bpm) that's built to party. It's about unique sound design, deep kicks and massive basslines, large cinematic breaks and euphoric melodies. Hardstyle brings out the party beast inside of you, it's about forgetting everyday life for one night, and letting yourself go. It's something you have to experience for yourself.
Coone: If you love energy and catchy addictive sounds with a rough edge to it, you should definitely check out what Hardstyle is all about. It's not just the sound, but also the total experience of the show and the dedicated audience that come with it.
2.    Who inspired you to start making music?
PP – Wietse: My first party was Shockers in the Amsterdam Rai, in 2002 where I saw DJ Dana play the closing set. I was so amazed that then and there I decided to start making music this music.
PP – Sven: From the moment I came in contact with harder styles, I knew this is my destiny, my passion.
GFH: So many talented musicians out there did. Music is like oxygen to us, we can't exist without music. It just makes us feel alive!
Coone: My older brother, who already was DJing back in the days. I was impressed and started playing and producing myself.
3.    What is your opinion on the current state in hardstyle?
PP: We think hardstyle has evolved in the last couple of years in a real grown up quality music/sound and movement.
GFH: At the moment Hardstyle has a big scene in countries like Holland, Belgium and Australia, and a lot of potential in other countries where the scene is growing steadily. It's obvious that our style has been getting more attention with around 10 artists in the DJMAG top 100, and a growing amount of parties all over the world. But it's still a dance style that's a bit more rebellious then other dance styles. The bpm is quite high compared to house, and the sounds in general are a bit more raw. So it's probably never going to be a really mainstream dance style. The sound that we produce is not really radio friendly, it's produced to  be heard on a big sound system at a party. That being said, hardstyle has a lot of energy and it's perfect party music, so we think Hardstyle is going to grow even more globally. The future looks good and we are ready to spread our sound all over the world.
Coone: I am really happy about what the sound has accomplished so far. The producing quality has gained a lot and this will get better every day, thanks to many new talented producers in the scene. On top of that I am happy with the globalization of listeners. Apparently we are doing something that many people like.
4.    How did you first get into producing hardstyle and will you stick to your hardstyle roots or maybe switch up genres?
PP: As we described in our previous answer, it was from the first time we came in contact with music, we start making music in Reason, Nuendo and the first version of Cubase. We recently switched to Studio One. Our roots lies in harder styles, this will remain harder styles with sometimes other flavors. We can't look into the future, but how we feel now it will stay hardstyle.
GFH: We will definitely stick to our roots, and create the more raw side of hardstyle!
Coone: It was my brother who was playing hard EDM back then, I just loved it. As an artist I want to innovate and evolve my sounds. But yes, always hard!
5.    Do you have a favorite producer right now?
PP: Deadmau5, because he is the master in making music, technical wise and vision wise. He never copies others.
Coone: Within Hardstyle I can't specifically mention one producer, since the quality of several producers is very high at the moment. Outside Hardstyle, Showtek is one of my favorite producing artists. Also Macklemore 's producer, Ryan Lewis is doing a great job in mixing and creating their tracks.
6.    Do you have any songs you're current working that you can tell us about?
PP: Yes we are currently working on some cool surprisingly collabs. The EP will be released around Amsterdam Dance Event. It's still a surprise, but we will announce every collab separately until our showcase on the October the 17th in the Melkweg.
GFH: We are working on a new weapon for a special mission. But the details are still top secret. Just keep an eye out for any new intelligence on our social media ;-)
Coone: Currently I am working on my new album 'Global Dedication'. The first two lead single are released: Coone ft. K19 – 'Times Getting' Hard' and Coone – 'Our Fairytale' (Theme of Tomorrow 2013). Of course many tracks for this album will follow soon. The album will be showcasing a wide variety of sounds within Hardstyle, ranging from euphoric melodies combined with catchy vocals, to furious sounding raw edged smashers.
7.    How do you feel to be playing at the first ever "Tomorrowworld?" and Q-dance's first ever stand-alone US event, The Sounds of Q-dance?
PP: We feel privilege that we may be a part of this history writing events. For us Q-dance is our family and we feel we are in this together, as in bringing our music, performance and experience to the USA!
GFH: We're ready to show America the raw side of hardstyle. We know that this sound is still really new to America (not counting the real hardstyle fanatics out there, we know you guys are out there as well!!!), and being one of the first raw hardstyle acts out there is really exciting. All we can say is come and check us out at one of these events, and experience our sound.
Coone: I am familiar with the high quality of the production of both events, since I have played on their stages many times. So I am very confident this will be a success as always. This time I will play for the American audience and this excites me a lot and I hope they will enjoy it as much as I will.
8.    If you could collaborate with any artist, regardless of genre, who would it be and why?
PP: We are working with some great musicians at the moment. But if the sky is the limit and everything is possible, it would definatly be The Prodigy! Why because they are awesome, they were then and they are still now! Always music wise ahead of the game, their music can be played every event, club, festival. Because it's cool! Their sound would work perfectly with ours, so maybe one day.
GFH: That's hard to say. We're really open minded, but in a collab the sound of the other artist has to match our sound. If it's a rapper, a rock band or a dance producer, they have to have that raw edge in their sound. Then anything could be possible. So naming one artist wouldn't make sense.
Coone: I love to work with artists from different genres, because it evolves your style and enlarges the group of listeners. I am a huge fan of Eminem, so he would definitely be someone who I'd wish to work with from outside the genre. But of course that is setting the bar quite high.
9.    Are there instances where you get "producer's block?" if so, is there anything special you do to get the creativity flowing again?
PP: We haven't gotten "producer's block" yet, let's keep it that way. If it does occur, change the environment or negativity around you to let it flow again.
GFH: Before we start working on a track, we always have brainstorm sessions. So we always have a few ideas laying around that could be a good basis for a new track. Either a cool vocal, or a unique sound that could be the basis for a new track. Working together makes it easier to come up with good ideas. And besides this, there's a world of inspiration out there. So we never really have the problem of a producer's block.
Coone: It's well known by producers that one week you produce more tracks than you eat or drink. And the other week it feels like you are only eating and drinking ;) Creativity is a strange thing, if it doesn't work for me in the studio, I take a day off to relax and clear my mind.
10.    Where can we expect to see you in the next coming months?
PP: Next week we play at Q-Base, Germany. After that we will fly to Sydney to play MainStage Defqon.1 again. Fly back to The Netherlands for a booking, and we will fly to Atlanta for TomorrowWorld, after that Los Angeles Sound of Q-dance, Sound of Q-dance in Santiago. After that need to fly back to Holland for our showcase in The Melkweg on the 17th. Check for the exact dates our Facebook.
GFH: To speak in Gunz For Hire terms; we're planning a lot of hits the coming months. With targets all over Europe and of course the States. More dates to be announced so keep an eye on our Facebook page. These venues better prepare, because we're coming; and when we do, we're bringing the big gunz!
Coone: Ft. Lauderdale FL, Dallas TX, TomorrowWorld in Atlanta GA, Seattle WA, Vancouver BC, Los Angeles CA, Santiago (Chile) and hopefully many more!
Below we've featured a song from each artist respectively. Check out their music below and enjoy!