15 nov // Liberation // Black Coffee (SA) // Bird Rotterdam (NL)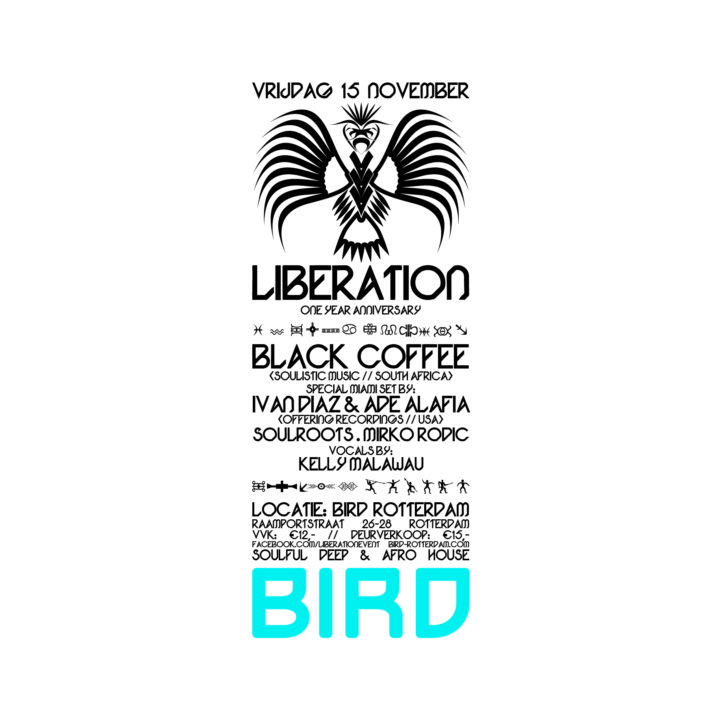 Friday November 15th, at Buma Rotterdam Beats, jazz stage Bird opens its doors to the Soulful Deep & Afro House oriented event called Liberation, with the amazing international artist, the one and only: BLACK COFFEE (South Africa / / Soulistic Music).
Over the past year, the music genre Soulful Deep & Afro House with its South African influence has put a stamp on the Dutch dance scene. With the new demand for this genre can not be overlooked. Liberation is one of the major players in the Netherlands that is responsible for causing this growth. Liberation is committed to increasing the platform and has decided to sign a deal for the next edition with Bird Jazz stage. The three-day event 'Buma Rotterdam Beats' will be taking place in Rotterdam on the 15th of November. Different genres such as Hip Hop, R & B, Soul, Reggae, Dubstep and Bass are extensively described in a current and three-day program consisting of a conference and music festival. Jazz stage Bird is one of the sites connected with Buma Rotterdam Beats and acknowledges the growth of the music genre Soulful Deep & Afro House.
Black Coffee is originally from South Africa. He is internationally known for his distinctive productions and spectacular performances. He knew how to stand out with the three albums Have Another One, Home Brewed and Deluxe Album. Black Coffee founded an organization in 2005 called Soulistic Music. Over the past years he has built a team of renowned South African artists, such as: Culoe De Song, Zakes Bantwini and Tumelo. Which have been selling gold and platinum records. Black Coffee will be performing his skill for Rotterdam on Friday the 15th. This will be his first performance in Rotterdam, and this will also be his first appearance in the Netherlands outside the Amsterdam Dance Event.
Friday, November 15th at 23:55 Bird will open its doors to a combination of special occasions, because in addition to Buma Rotterdam Beats and superstar Black Coffee, Liberation will also celebrate its first anniversary! To celebrate, Black Coffee will provide a special set of 3 hours. The program is complemented by IVAN DIAZ (USA / / Offering Recordings), SOULROOTS (NL), MIRKO RODIC (NL / / Adjuma Dusa), ADE ALAFIA (USA / / Offering Recordings) on percussion and vocals from KELLY MALAWAU (NL).
♫ Black Coffee (Soulistic Music // South Africa)
♫ Ivan Diaz (USA // Offering Recordings)
♫ Soulroots
♫ Mirko Rodic (Adjuma Dusa)
♫ Percussion: Ade Alafia (USA – Offering Recordings)
♫ Vocals: Kelly Malawau
General information:
Event: Liberation
Date: 15 november 2013
Location: Bird
Address: Raamportstraat 26-28 Rotterdam – Netherlands
Time: 23.55-05.00
Presale €12,- // Door sale €15,-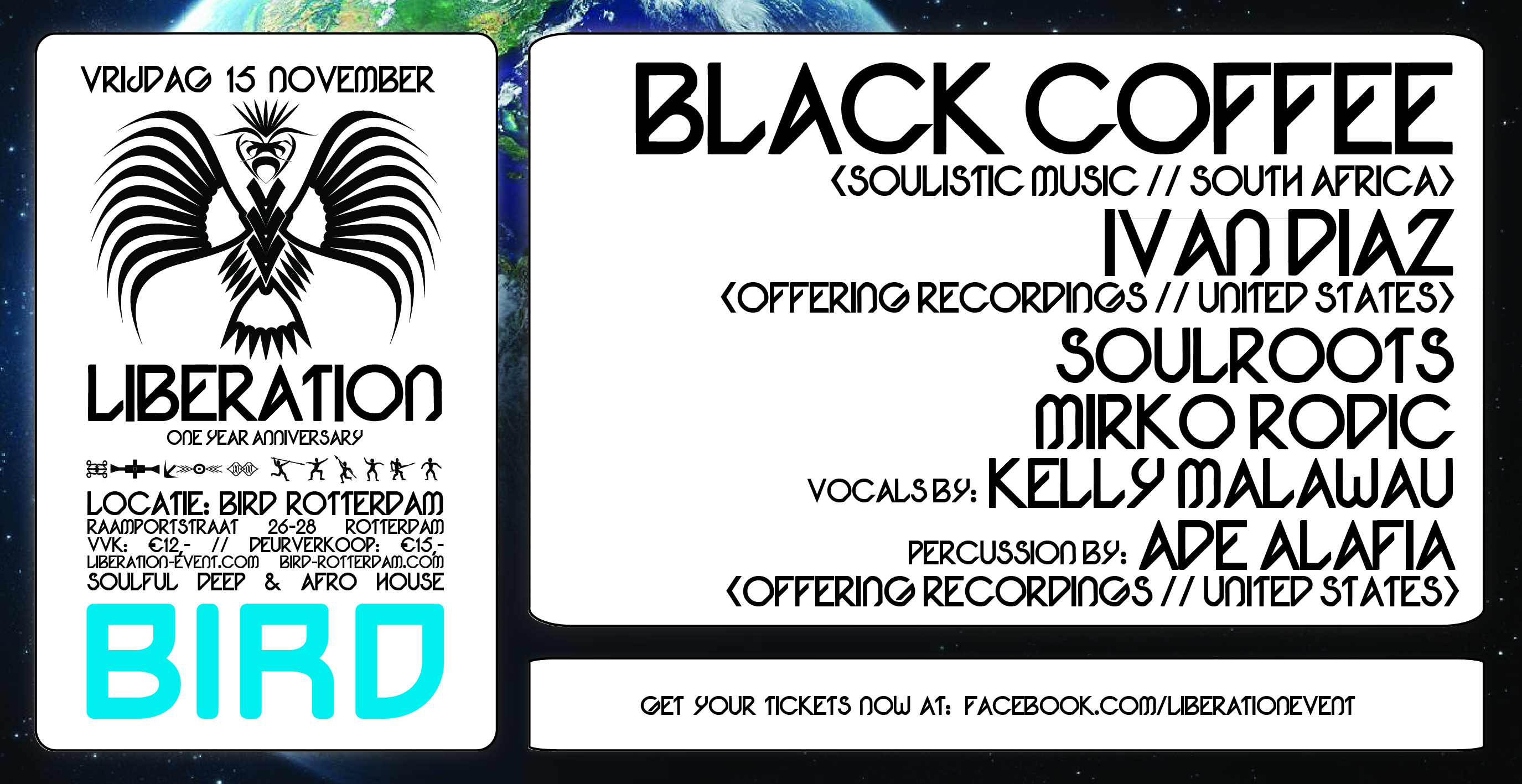 Facebook.com/Liberationevent
Twitter.com/Liberationevent
http://liberation-event.com