Mix Selection: Martin Garrix & TV Noise @ Titan Xiphos Complex – Lyon, France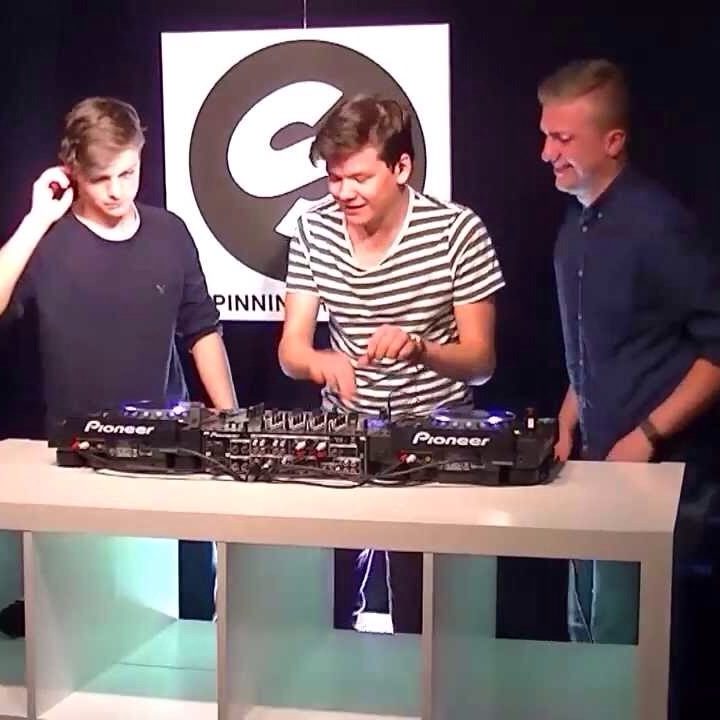 This Mix Selection is a bit of a throwback, but features some bangers nonetheless. The future of dance music lies in the hands of a group of youngsters like Martin Garrix & TV Noise. These Dutch phenoms took over the Titan Xiphos Complex in Lyon, France for a night. They unleashed a MASSIVE back-to-back set that lasted for over 90 minutes. The young guns played some of dance music's biggest hits, including "Countdown," "Tsunami," and the highly awaited "Wizard". Enjoy some cuts from these young guys, and expect to see their names all over the place in the coming years.
Tracklist:
Alvaro & MERCER feat. Lil Jon – Welcome To The Jungle [REVEALED] w/ Pitbull feat. Lil' Jon & Will.I.Am & JD – Put Your Fuckin Hands Up (Acappella)
Bassjackers vs. Icona Pop – I Don't Care vs. Crackin (Hardwell Summer 2013 Mashup) w/ Alesso – Raise Your Head (Acappella) [REFUNE] w/ David Guetta & GlowintheDark feat. Harrison – Ain't A Party (Let Me See Your Fuckin Hands Acappella) [JACK BACK]
Kid Cudi feat. MGMT – Pursuit Of Happiness (Steve Aoki Remix) [UNIVERSAL REPUBLIC] w/ Pitbull feat. Lil' Jon & Will.I.Am & JD – Put Your Fuckin Hands Up (Acappella) w/ Mark Knight & Koen Groeneveld – Put Your Hands Up (Acappella) w/ Dada Life – Kick Out The Epic Motherfucker [SO MUCH DADA]
Dimitri Vegas & Like Mike vs. Sander Van Doorn – Project T (Martin Garrix Remix) [SPINNIN'] w/ Pendulum – The Island (Acappella) [WARNER UK]
Hardwell & W&W – Jumper [REVEALED]
Showtek – Slow Down [DIM MAK]
Martin Garrix & Jay Hardway – Error 404 [DOORN] w/ Justice vs. Simian – We Are Your Friends (Acappella) [ED BANGER]
Bruno Mars – Locked Out Of Heaven (Sultan & Ned Shepard Remix) [ATLANTIC] w/ TJR – Whats Up Suckaz [RISING]
Marco V – Hypergenic Supersonic Futuristic Monophonic [IN CHARGE]
Daddy's Groove – Stellar (Martin Garrix Remix) [SPINNIN']
Martin Garrix – Animals [SPINNIN']
MAKJ – Springen [HYSTERIA]
GTA & Digital Lab & Henrix vs. Avicii – Hit It Silhouettes (Hardwell Mashup)
Linkin Park – Numb w/ Armin van Buuren & W&W – D# Fat [ARMIND] w/ Showtek & Justin Prime – Cannonball [MUSICAL FREEDOM] w/ Zedd feat. Foxes – Clarity (Acappella) [INTERSCOPE]
Dimitri Vegas & Like Mike & Moguai – Mammoth [SPINNIN']
W&W & Ummet Ozcan – The Code [REVEALED]
ID – ID w/ Green Velvet – Flash (Nicky Romero Remix) [RELIEF]
FTampa vs. Nirvana vs. Chuck Nash – Kick It Hard Teen Spirit (Rafael Mendes Reboot)
Hardwell – Spaceman [REVEALED]
Martin Garrix & Jay Hardway – Wizard [SPINNIN']
ID – ID w/ Calvin Harris feat. Example – We'll Be Coming Back [COLUMBIA]
Hardwell & MAKJ – Countdown [REVEALED]
Diddy Dirty Money & Dirty South vs. Daft Punk vs. Hard Rock Sofa feat. Skylar Grey – Coming Home Aerodynamic Quasar (Axwell & Sebastian Ingrosso Bootleg)
Mightyfools – Footrocker [REVEALED]
Noisecontrollers & Showtek – Get Loose (Tiësto Remix) [SPINNIN']
DVBBS & Borgeous – Tsunami [DOORN]
Nari & Milani & Maurizio Gubellini & Delayers vs. Otto Knows vs. OneRepublic – Million Atoms To Apologize (Hardwell vs. Thomas Gold Edit)
Tony Romera vs. Benny Benassi & Gary Go – Pandor Cinema (Clockwork Mashup)
Alesso & Sebastian Ingrosso – Calling [REFUNE] w/ Gotye feat. Kimbra – Somebody That I Used To Know (Acappella) [BOOTYLICIOUS]
Dimitri Vegas & Like Mike – Wakanda [AXTONE]
W&W – Thunder [MAINSTAGE]
Dance Rebels Presents Mix Selection
Looking for a nice mixtape to begin your day with? To rock out on your lunchtime or just want to blow some new & fresh tunes on your iPod or Home cinema? Look no further…
Mix Selection is a platform where Dance Rebels points out which mixes are undeniable MUST-listens. We give you a selected summary of the hottest tapes that we have come across. Get ready to start your day with a blast!
Stay updated with all of our releases. Join us on Twitter.