Sitting Down With Crespo Under the Electric Sky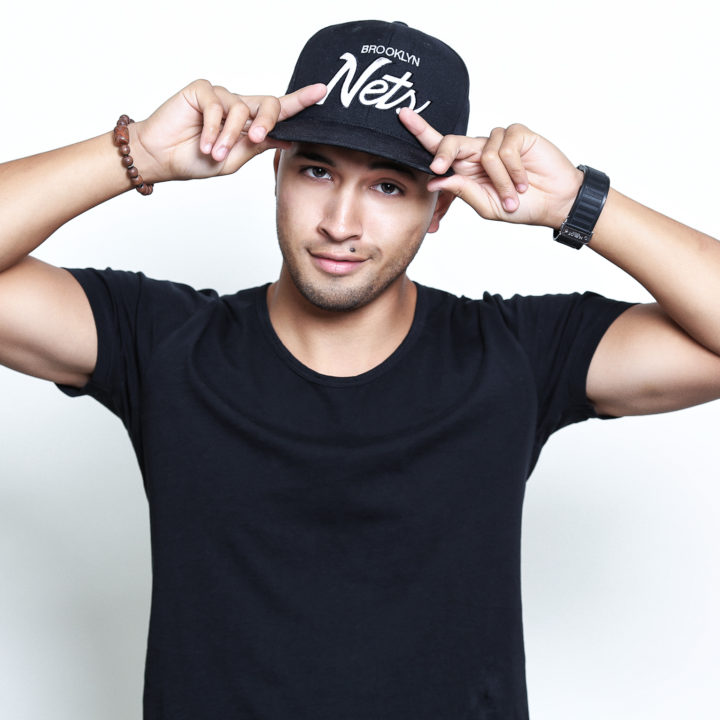 We had the chance to sit down with upcoming producer and DJ Crespo from Miami after his massive EDC Las Vegas Set! We got to talk about his musical background, what his plans are, his upcoming duo with friend Landis, and a few other things!
I know this is your first time playing EDC in Vegas! How was it? Was it everything you expected?
Awesome! It was more than expected! We got here Friday and I was dead, so I missed the festival. Yesterday [Saturday] we came out here and I've never seen anything like it. We were looking at the stages and saying "This is crazy, who puts all these ideas and then hires all this staff and puts all this money into this?! " It creates an experience and that's untouchable.
Did you get a chance to explore around the festival?
Yes, I did! I've been to every stage. A bunch of my friends are playing like Henry Fong and Firebeatz, so it's dope to see the people that I produce with and know also making it big. I may have played on a smaller stage but I really just see it as an honor being able to say that I played at EDC Vegas.
How did you get into music?
Actually, my sister, she is really big into music. She's one of the biggest music heads that I know from all the genres. Ever since I was little she would play albums by TLC to old school hip hop like Big L and A Tribe Called Quest, and that's the kind of music I grew up on. I grew up in Chicago so I always heard house music on the radio. I love to listen, to play, and to produce that old school house vibe and try to put that in my productions. *laughs* I was that kid that would bang on pots and pans in the kitchen when I was little. I've always had a passion for music and I just let that grow.
Who are some producers or DJs that really inspire you?
There's a wide range, but I really respect DJs who started before the electronic scene got big that can actually spin. So guys like DJ AM are huge to me, but as for more recent guys: I've followed Firebeatz since I was young I love their style. As well as Diplo, A-Trak is really cool, Hardwell I love, and Deorro are some of my main influences.
If you had to describe your sound to anyone how would you describe it?
I try not to draw a box around myself because I love all genres and I'm amazed that EDM turns into all these different sub genres. I try to incorporate as many types of music into my sets as possible. From trap to Melbourne bounce type house. My good friend Landis and I both love Melbourne bounce. We are starting a duo together (Landis & Crespo) and we really want to bring that Melbourne bounce sound. We've been making it for so long that we feel like we're going to be ahead of the curve.
What can we expect from this Duo of Landis and yourself?
Expect a lot of cool stuff coming out. We're going to try to branch out into all the genres: house, bass, deep house, trap. We're trying to explore right now as we find our sound, but definitely expect some of the Melbourne sound. We also love guitars, so we play a lot of rock stuff; if you listen to "Mojo" there's a rock riff in it. So we want to try this funky, rock, Melbourne bounce flavor.
*laughs* Like your own thing?
Yea! It's a different sound! We're just trying to do something new and add flavor to the music [we produce] because right now the scene is very saturated with the same stuff and we want to change it up.
Speaking of Mojo the last track we had was the 3lau "How You Love Me" remix with Landis . Should we be expecting anything from you guys soon?
Yea, we actually have two tracks done and finished. One is a massive festival track, with a bouncey bassline. The other is more on the Oliver Heldens end with a minimal but hard drop. We're constantly working on new stuff, we're also working on putting a tour together.
Wow! Those are two very different types of music!
*laughs* Yea, we want to shop them around a bit and see where it goes from there. We definitely want to be a 'no genre' type of group and we want to be able to play anything and just make people move.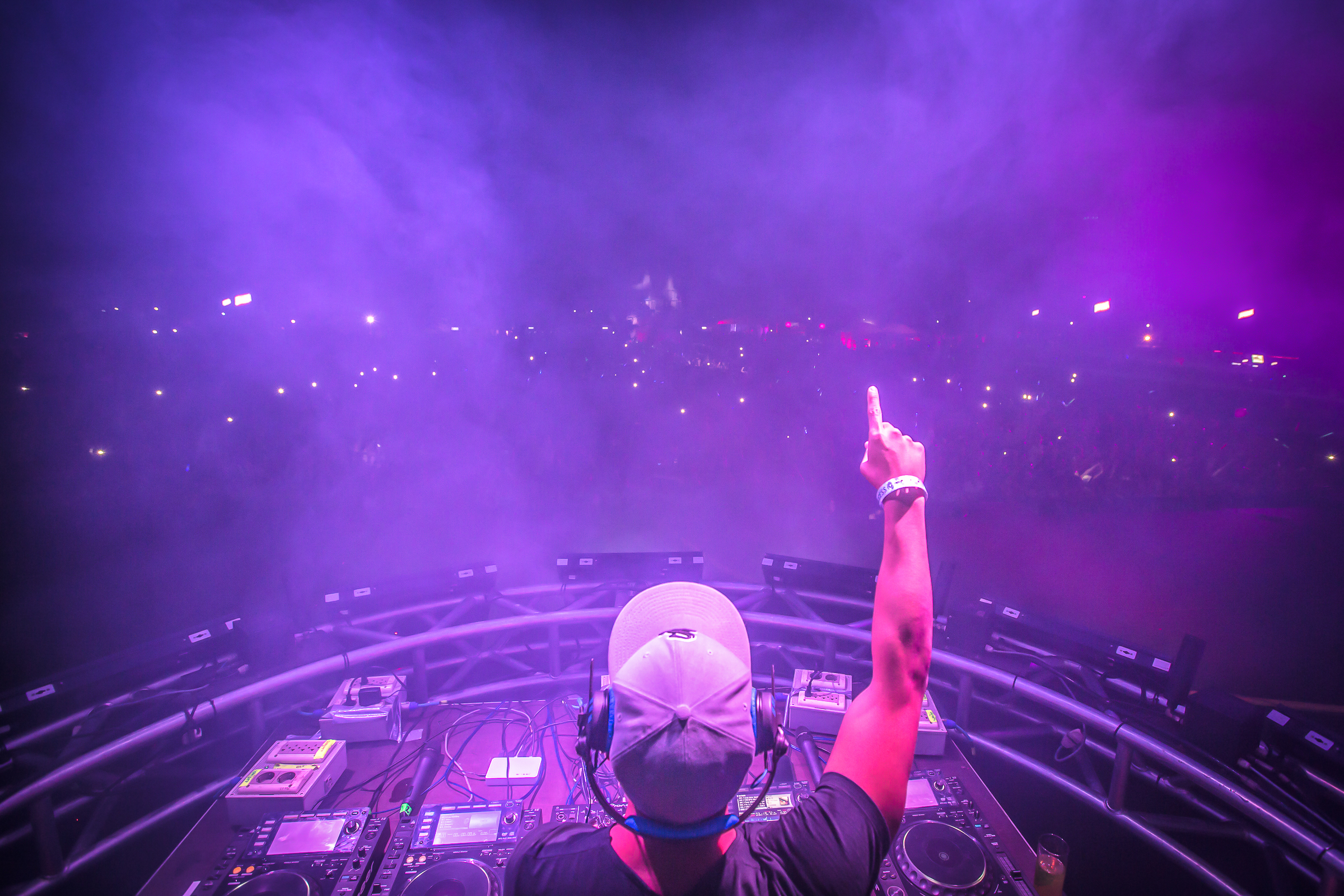 How was working with Landis on the 3lau remix?
It was awesome! It's really cool because when we work together there's so much chemistry, we sometimes finish tracks in only 2-3 days. So together our ideas work really well. I DJ a lot, and he produces a lot. He brings his style and sound design and I bring ideas and melodies that I think work on the dance floor, together it's a great match.
Do you guys get to teach each other stuff?
Always, like beforehand we were practicing mixing and mic skills and he was teaching me how to make sounds! It's a really cool relationship and it started out as a friendship and it's just grown into something more. We started out as interns for a big DJ, and now were here, it's very cool. 
What's your favorite place to play? City & Club
City– I love Vegas! I've played here a couple times, Tao Beach, it's just a really cool pool, people go crazy and they splash all the water all day. I also love playing in Miami where I call home. There's so much culture down in Miami that dancefloors tend to always keep dancing.
Club– That's hard, hmmm there's a club in New York City called Finale, it's a pretty house-based crowd on Saturdays. It's the big house club up there, and New York is just 'that' place. It's always cool to play there.
If you could accomplish one goal in your music career what would it be?
It's weird, it's not about the money for me, I just want to make music that people can relate to. Music that they can turn on anytime and enjoy it and feel the energy that we put into it and get that back [from the track]. Something that will last forever, that's timeless and something that is going to help people through their day no matter what emotions they're experiencing.
I would love to open a record label further down the road and give artists a new platform to get their music out.
Last question! As an upcoming producer, when did you know it was time to quit your "real" job and make music your everyday job?
That was a tough decision. I was going to school at Florida State University I was in metabolism class downloading music and making drum loops. I kept saying to myself, "Why am I here?" Not listening to my teacher getting C's in classes, when I could be doing something that I really want to put my heart into. So I talked to my parents and we decided that if they were ok with it, they wanted to see what I could do with it. They thought it was absolutely crazy but they supported me which is the best thing. I began DJing at local college bars and from there things progressed so quickly. I went from bars to the biggest clubs in Tallahassee. From Tallahassee I moved down to Miami and started DJing on the beach.  And now today, I'm sitting here with you at EDC Vegas. It has been almost 6 years since all of this happened, its been an amazing ride. 
It's tough to decide to drop everything and follow your passion but if things continue to grow in the right direction never be afraid to see how far you can take it. 
Anything else you want to say?
I have this motto that I tell everybody young and it's to "Do what you love", because you're at this age where you have the chance to do ANYTHING. If it fails, there's no problem, because you have plenty time to find other roads down your path. Do what you love, always.
Follow Crespo:
Soundcloud | Facebook |Twitter
Check out Crespo's remix of 3lau's "How You Love Me" with Landis!