Tuesday Thoughts 029: Showtek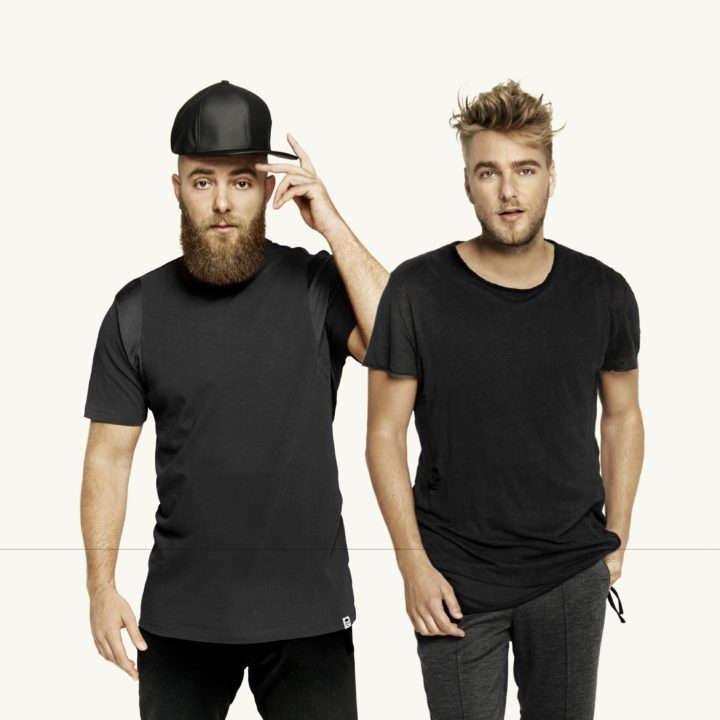 Over the past two years Showtek have become more than an act; it's a movement, a tribe formed by the producer duo and its fans that is united in its love for music, excitement, artistic freedom and adventure. More than anything else, the tribe is the source of motivation and energy for Showtek and it is their mission to nurture it and help it grow. The music always come first, no amount of success or fame will change that.
Wouter and Sjoerd Janssen, aka Showtek, two brothers from Eindhoven have been making music for over a decade. Two rebels kicking against the shins of establishment, speaking a language the party crowd could believe in. It was in 2012 when they truly exploded onto the global dance scene with the release of 'Cannonball'. Childhood dreams became reality. Countless new fans joined. New productions got recognized and reached all corners of the planet, following the release of 'Booyah'; a track that has Showtek written all over it, that it screamed it so loud that everyone sat up and listened, resulting in a top #5 spot in the UK singles chart and their first worldwide major hit! Momentum gaining, hundreds of thousands of fans worldwide have their eyes fixed on anything that is yet to come.
Get ready to join the tribe: Here is Showtek!
---
Where do you guys find your inspiration as artists?
Could be anything and anywhere! We travel a lot and it opens up your eyes. We could be in a taxi and hear a song, meeting people and hearing their stories, or just our own state of mind at that moment. Obviously we get influenced by other artists and their music but it's a combination of everything. You could be in a movie and a certain scene on the screen is so intense because of the music and it can bring up a lot of ideas. Same as going out, even though we don't go out much it is very good to be in a club or at a festival sometimes and just get inspired by the moment.
Who has been your greatest mentor as you build your career?
We never went to music engineering school, we learned everything ourselves. Of course we've worked with some pretty influential names in the industry, like David Guetta and we learned a lot by working with other people and taking a look into their kitchen.
What experience in your musical career have you learned from the most?
That you have to follow your heart and gut. We decided to reinvent our sound in 2012/2013 and by listening to ourselves and creating our own path we've achieved a lot.
When did you decide to switch your style from hardstyle to the electro sound that made you huge today?
Around 2012. Wouter and I wanted to go to the next level. We wanted a change. So we took everything we've learned and turned it into something slightly different. We stood up for what we've believed we could do.
How did you guys get the idea for the Skink label, and what is the X-factor to getting a track signed?
Based on our experience, we wanted to translate that story into our label. A skink is a reptile which existed 140 million years go, which means it can adapt and survive, it is a reflection of our career. We are always looking for new talent but, it all comes down to producing a good song that works in the clubs or that's appealing to bigger crowds. There is no X factor actually, it can be the simplest song that works or the most unique outstanding production, it boils down to quality.
Your last three singles "Believer," "Swipe" and "Mellow" show huge variety in your production process. How do you juggle all of these different sounds at once?
Well, as an artist you have the right on freedom of expression! That's why we are artists. Mellow was more a one-time thing, to release a hard party song dedicated to our old fans. It was also a collaboration with our Italian friends from back in the days and we thought it was just fun to do. Swipe was more of a gimmick and we knew that Believer would be the biggest song of all. We love to mix up styles. Our sets are very diverse, we play a lot of hip-hop too and that's a thing we want to translate into our productions in 2017! It's also much more fun to step away from the limitation of producing 4×4 beats.
How do you manage all of the hectic responsibilities and schedules of DJing and producing?
Well, our mum always said; you could have chosen a different career. Being on this level requires a lot of responsibility and that's why there is management involved, we tour with entire teams so everybody has a task. In the end of the story, you still want to focus on the music but it's more than a hobby – it's hard work. But we love it and we know we are blessed to be able to chase ours dreams!
How do you feel about the current state of the dance music industry? Do you think things like the DJ Mag Top 100 poll are still relevant and important?
A number is just a number. In 2040 no one will know who was in the djmag top 10, our fans only will remember the music and the memory, that's what counts. We never aimed to be dj's, so we never had that dream of becoming the best. We love performing, don't get us wrong but there is no number that comes with success. Success is your own happiness, achieving your own goals. We just love to produce music, make people dance, bring people together and we think our music reached all across the world. We achieved several awards and golden records, because people love our music. That's what counts for us, leaving a legacy behind.
If you could give two production tips to those learning how to produce, what would they be?
Be original, follow your heart and don't be afraid to do something different than what's already out there. Don't be stubborn by thinking you can do it all by yourself. Every big artist in the world has help on the side. Take some time to analyze other music, listen to other people sometimes and try to implement that into your own sound with your own skills.
What's in store for Showtek now that we head towards the winter months?
We've got a really big new tune coming up, it's a collaboration with another producer named Brooks, who is extremely talented. This song is gonna be big! It's new, has a different vibe, groove and drop but it's still typical Showtek BIG!! For the rest we want to try to release a variety of different music, not just 4×4 to the floor!
Please include your top songs at the moment!
Major Lazer & Showtek – Believer: Our biggest song to play at the moment and will probably still be big in the summer of 2017!
Quintino – Don't Stop: We love the up tempo drop! We've been playing it since last year but this song will stay in our sets for a while.
Don Diablo – Tonight: Great song for in the club that gets the night going!
Skrillex – Cinema (Luca Lush Flip): Great to have this song back in our sets! This is one of our favorites from Skrillex.
Afrojack & Jay Karama – Diamonds: Ultimate festival tune! Good vibes and something different from Afrojack.
Showtek vs Technoyboy & Tuneboy – Mellow (YDG Remix): This remix is epic. We dropped it for the first time during Halloween and the crowd went mental! Such a strong remix!
MO – Final Song (Quintino Remix): Quintino did a lot of cool remixes and bootlegs last year and this one is no exception. Summer vibes!