Latmun – Please Stop EP [VIVa]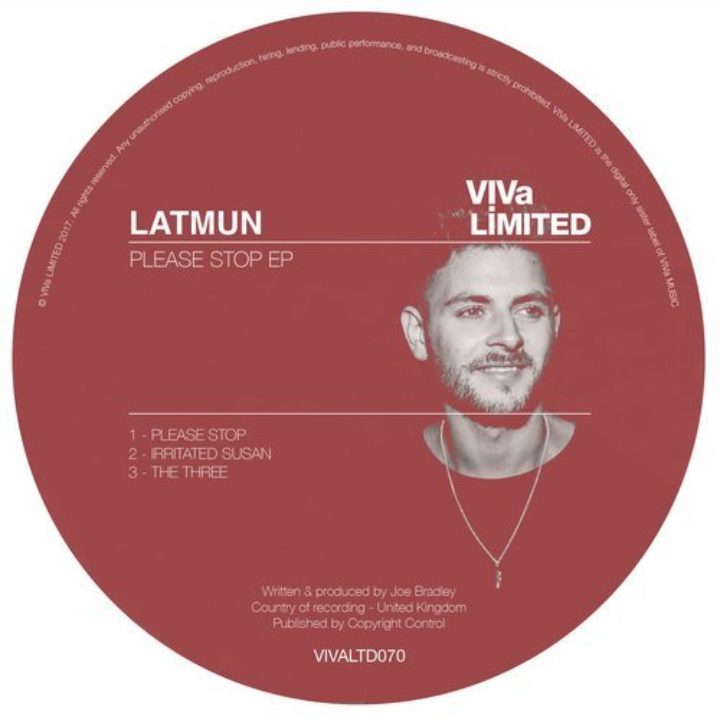 Joe Bradley – better known as Latmun, has somewhat arisen to the very top echelon of contemporary UK house music production. Following the huge releases of 'Whos That' on the VIVa Warriors Season 4 compilation mix and 'Def EP' on VIVa LIMITED, we are thrilled to welcome back Latmun with another EP worthy of again becoming a staple in everyone's music collections and DJ sets.
First announcing himself as a resident at Nottinghams clubbing institution, Stealth, Latmun's career has quickly progressed following the release of 'Def' in 2016. Reaching upwards of 150k listens on Soundcloud this expertly produced EP defined Latmun's sound, who is now known for producing some of the best grooves in UK house and techno.
Bradley's latest success has come from Green Velvet's Relief label where 'Everybodys Dancing' and 'That's Good' were released with the EP reaching number 1 overall on Beatport. Prior to this he was a part of the respected 2016 remix package of Velvet's classic 'Flash'. Leftwing & Kody's Lost label has also accommodated a number of Latmun's releases, notably 'Cosmic' which made it to no' 5 in the charts. Another recent output came as a remix on Emerald City of The Golden Boy's "Egyptian Lover", which continued the consistency achieving a number 2 overall.
Support has come far-and-wide for this talented young producer and DJ and he can be found in Ibiza this summer playing for Jamie Jone's Paradise parties at DC10, along with a number of dates for the Cuckooland Pool Parties at Ibiza Rocks curated by Do Not Sleep. The future is bright for Latmun, and this Tech House EP could easily reach the same heights as 'Def' did last year.