Kinnerman – Horns & Hats [elrow]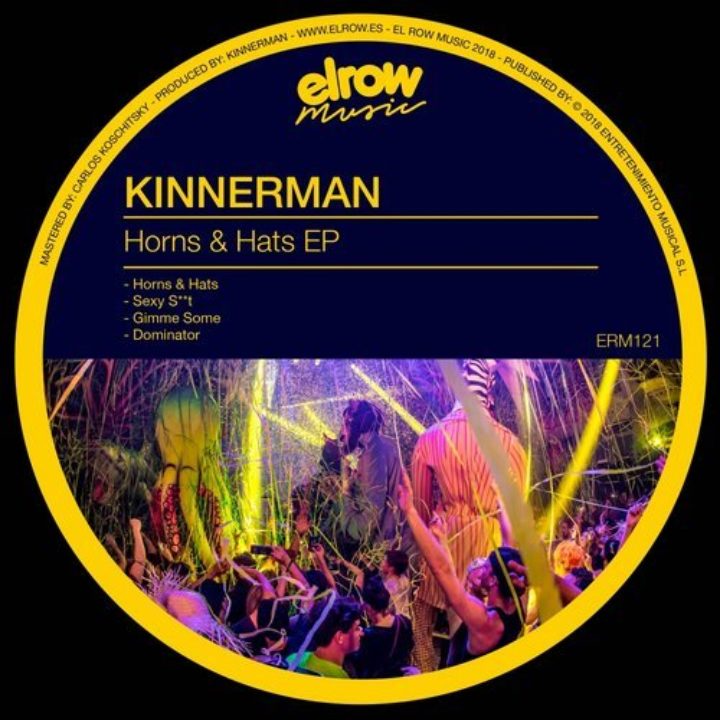 Happy New Year people! elrow Music is back on track this January with its first release of the year 2018 in the hands of one of Britain's hottest producers of the moment, Kinnerman. The Englishman delivers this 121st reference in elrow Music catalogue with the title 'Horns & Hats EP'.
This four-tracker shorty starts with the song naming it, 'Horns & Hats', a track with a groovy start, steady percussion and a pretty nice vocal set, that continues with elrow's characteristic sound and carnivalesque vibe. 'Sexy Shit' is the second track in the list, a smoother track, not so pitched up, with a nice set of sound FX and a cool drum progression, that makes this the perfect transient track for calmer moments in the dancefloor, yet delivering a nice vibe overall. 'Gimme Some' goes in the third place, a track that rises the revolutions, with a faster drum set, more tribal and steadier, a playful vocal line and a great breaking point, that will make any floor lose it to the rhythm. Finally, closing this EP we have 'Dominator', which is by far the banger of this amazing record, with a drum set that many will identify with any elrow party, and with a sexy and playful vocal set, with a female laugh that will conquer and seduce any dancefloor, along with the scratching FX that arrives by the middle of the track.
All in all, Kinnerman delivers big time with his 'Horns & Hats EP', giving elrow Music a great way to start this 2018! Hold on tight, big waves are coming!